How long have you worked at CCCV and what attracted you to work there?
I've been with CCCV 3 months. The main attraction to me, after working for various companies over my 20 years' experience, was the not for profit element of the organisation. From the offset, it just feels like a homely and friendly company and I am quite happy.
What do you enjoy most about your role?
Not having to rush. Everyone I work with for care calls is different and being a carer means you have to be an all-rounder. Thinking on your feet and changing hats for each individual to ensure you are meeting their needs. If you can make someone smile and feel safe and know that you care about them then that's what I enjoy the most.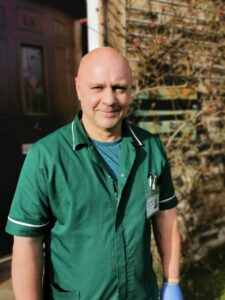 What would you say to someone thinking of a career in the care sector?
Find a company that doesn't want to make profits because you'll never get anywhere otherwise. Be open-minded and keep calm.
I can say that my experience with Cooperative Care is that not all companies are the same. CCCV stands out for me because 3 months into the role they still continue to be true to their principles and that's something I value.
What are your hobbies?
I do weightlifting and martial arts in my spare time. I like history and enjoy visiting lots of various historical towns all over the world. My favourite must be Poland, it's fantastic and full of history. Auschwitz was an eye-opener with an atmosphere all of its own with its eerie silence.
Tell us something interesting or funny about you?
I took my driving test with a broken left foot. I was in a martial arts competition a few days before my test where someone had stood on my foot. It was the size of an elephant's foot by the time it swelled up and it looked like I needed some serious medical interventions, however, I was not willing to let my driving test slot go. I turned up to the test with my clutch foot strapped up, trying to keep it from the driving instructor to see. Needless to say, even though I was in a lot of pain and pretty much white-faced all the way through, I passed!