This post comes from jess, who joined us for two days of work experience, including supporting our marketing activity. So it was only right that she got to have her own blog post!
"For two days this week, Danielle, the registered manager of Co-operative Care, invited me to take part in some work experience within the office. I helped with marketing, data inputting and took phone calls in my professional voice: "Good morning, Co-operative Care Colne Valley, Jessica speaking."

Marketing is hugely important within a business, and I didn't have any experience with it. However, as a young, tech-savvy person, I used a general understanding of social media algorithms to make posters, leaflets and eye-catching material which can help boost the social media presence of Co-operative Care Colne Valley. I used bright colours and funky graphics as well as keeping true to our brand, a great combination to attract attention in the busy social media feeds!
Whilst doing this, the office team were extremely supportive and helpful – supplying me with tips, guidance points and praise. Including learning a few skills with excel spreadsheet and keyboard hacks! They made my abilities feel appreciated and valued. It was a lovely experience within marketing.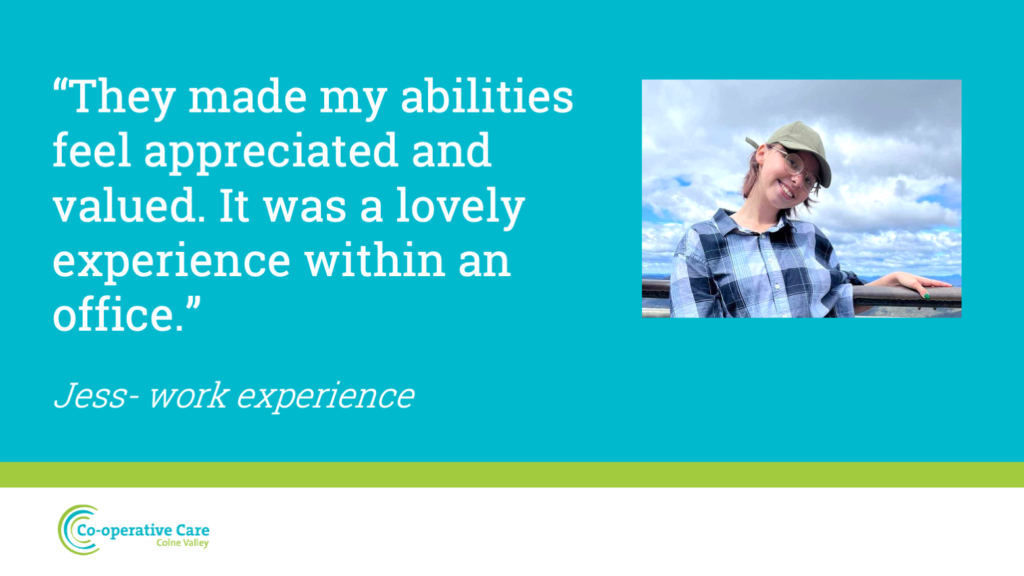 In the time I spent with Danielle the registered manager, I gained an understanding of professionalism as well as the key elements of the care sector. When calls came in, I directed the call to the correct person; making sure the enquiry was fulfilled to the best possibility. This helped me understand key business etiquette, problem-solving and empathy which is transferable to other careers.
Overall, the two days at Co-operative Care Colne Valley were a paramount step forward in making choices in my career. Working in an office is not so bad and the office at CCCV is a supportive, funny and friendly environment. The whole business runs smoothly with the help of an amazing office team. "