Last week the UK celebrated Volunteers Week, which is an annual event that recognises the wonderful work over 16 million people do by giving their time to help others within their community. It also promotes the benefits of volunteering for all that are involved.

A phrase often synonymous with volunteering is 'mental health and wellbeing', something we are all much more aware of today than ever before. Scientists, doctors, health professionals and therapists all point to the importance of attending to these two fundamental aspects of our overall health and happiness.
Researchers say there are 5 ways in which we can improve our mental health and wellbeing:
connect
be active
take notice
keep learning
give
These five acts can be put into action by simply 'volunteering'!
It is well documented that those who give their time to volunteer say they get many benefits from helping others. For some, making a positive difference to someone's life is emotionally rewarding, but also gives a real sense of achievement. For others, using their existing skills and knowledge to benefit their local community, or an individual, provides a real sense of purpose and can help with improving their self-esteem, confidence and wellbeing.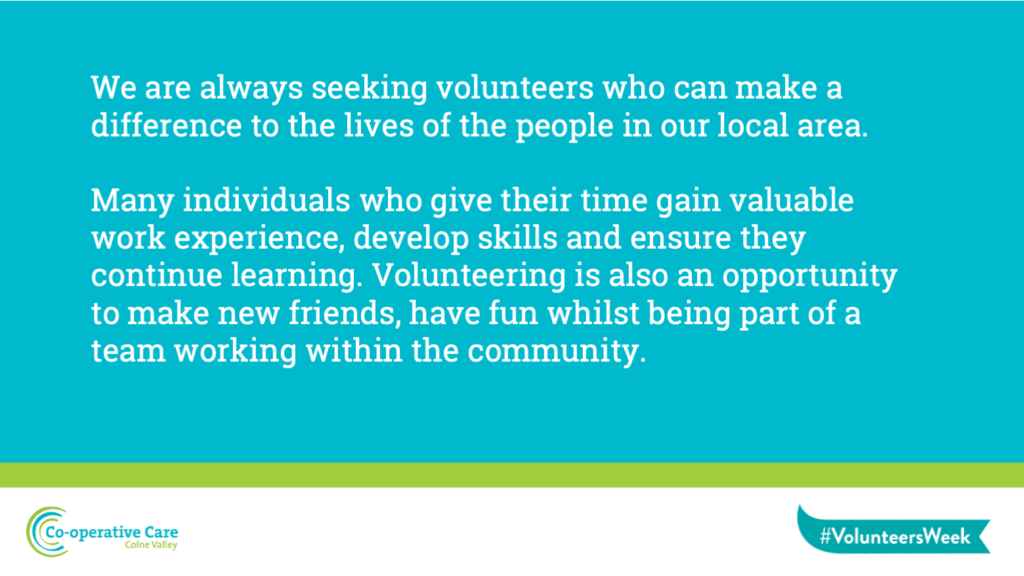 Conversely, volunteering is also a way to receive and many individuals who give their time gain valuable work experience, develop skills and ensure they continue learning. Volunteering is also an opportunity to make new friends, have fun whilst being part of a team working within the community.
At Co-operative Care Colne Valley, we are always seeking volunteers who can make a difference to the lives of the people in our local area. This could be as simple as calling someone who lives alone and who is unable to get out and about. The act of taking an interest in another human being, checking in on them regularly, makes a huge difference to the quality of their life and improves their mental health and well-being.
Of course there are many other ways you could get involved including assisting with our services and offering more practical activities which supplement the overall care we offer. In most cases, the volunteer work can be tailored to fit the time, skills and level of involvement you can offer and importantly what you are comfortable doing.
If you are thinking of volunteering, or feel you can give and want to get involved with caring for people in our community in any way, please contact us to discuss. Alternatively, visit our Volunteering page for more details and complete the form at the bottom of the page.
Volunteering is a great way to connect to people, be active, take notice of the world around you, as well as to keep on learning and crucially give something back. Remember, you'll also receive a great deal in return. It's scientifically proven to help with your own mental health and wellbeing!