Hi my name is Sara (not Sarah), and here are a few things to know about me!
I'm a care support worker with Co-operative Care Colne Valley.
It's an amazing company to work for, all the carers are great people, it's a very supportive company and is on the ball.
We get to visit so many wonderful people in our job.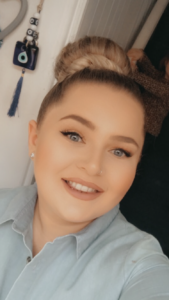 I like to read books and I love going on holidays with my family to hot countries, which I am very grateful to be able to do.
I'm allergic to animals, flowers and grass but not air!
My favourite place in Huddersfield is Castle Hill.