We asked some of our brilliant home care team how they find working with Co-operative Care Colne Valley, and what our user members appreciate about the care service we provide.
Thanks to Nicola (Nicky), Charlene and David for taking the time to jump in front of the camera to talk to us. Tea and biscuits were on all of their appearance requests!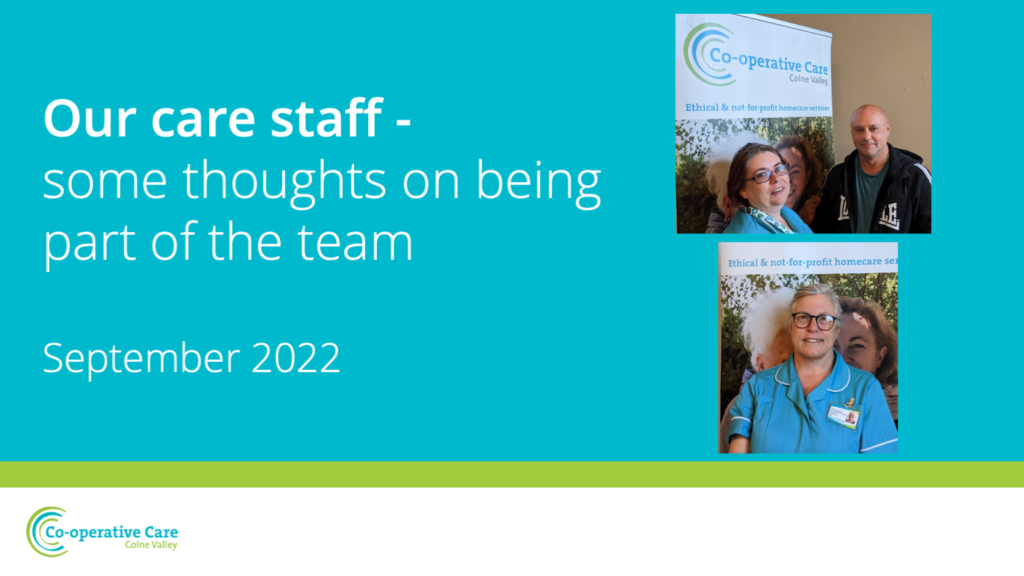 These are all busy people and we appreciate their time in helping us make this film and for their wider caring, friendly professionalism. One of our values is to treat the people we care for (our 'User Members') as valued individuals and to strive to provide them with the best quality care possible, and our care team embody that value every day.
Here is the film with a transcript below it.
Transcript of the film:
How long have you been a care worker for?
Nicola: I'm an occupational therapist, so I've worked in healthcare for 40 years. And before I came here, I was working in a hospice.
David: Well, I've been 15 years maybe. Yeah, about 15 years in November.
Charlene: And mine's coming up to four years in October.
David: But she's missing a zero off for that.
How do you find working with Co-operative Care Colne Valley?
Nicola: My particular reason for joining the Co-operative was to have face-to-face contact with users and that's predominantly what I do now, so that's the bit I really enjoy. Just meeting people, learning about them, what they need and just meeting those needs whenever I can.
Charlene: It's just all round [positive], isn't it? It is literally just all round. And even though we don't work together, together very often, we're still a team.
David: You're always there, aren't you? Yeah.
Charlene: Even if people aren't working, we're still of a team.
David: Oh yeah. The honesty is the thing that stands out for me the most of all, so honest. Yeah, I've never known anything like it. I've worked in loads and loads of different care companies and I think if they were as honest, you wouldn't have the care crisis you have now, but unfortunately they're not. So that's the point.
Charlene: Well said. I've only worked for one other company and the difference for me from one company to the next, it's I wish I'd known about [Co-operative Care Colne Valley] sooner.
What do you think user members appreciate most about your support and care?
Nicola: I think for me the important thing when you're providing help or care to people is to have the time to do it well. And I think one of the philosophies of Co-operative Care is that you are given that time and that's really important to me, that I don't feel like I've got to restrain, that I can chat to people, because I may be the only person they see that day.
Having worked in healthcare for a long time, I see the genuine appreciation of what we do in the sense that they know we care about the care that we give and that we are not pressured by outside influences in terms of having to achieve targets or people are very sensitive when you go into them and into their own home, and they understand if you are just rushing in, rushing out and doing the bare minimum.

So I think for me it's that overall genuine appreciation from the users that what we're doing is really meaningful to them.
Charlene: The fact that we stay on time and we are quite happy to sit and have a chat and have a coffee if they want. They are very much appreciative of the fact that we go and we are not, "right, we need to do this, do this, do this", and then leave.
It's a, "would you need anything else? Have we done everything that you need us to do?"
David: You've got the time. We're like their extended family really, aren't we?
Charlene: Yeah, absolutely.
David: I've never had that before, ever. I've got to know clients before and you get to a bond with a lot of clients, but…
Charlene: This is different.
David: It's a different atmosphere. That's the thing you're looking for. The atmosphere is totally different.
What interested you in working with Co-operative Care Colne Valley?
Nicola: I was really keen to join a company that had the right philosophy.
I was really interested in the model we have of being a Co-operative, because I think it's an interesting model that's not generally been tried in social care. So yes, it was the philosophy behind the company and the fact that it was providing care for local people in the area.
Charlene: They only do the Colne Valley, which it's huge because other companies can send you all over Kirklees.
David: Oh yeah.
Charlene: And you can go from one side of Kirklees to another and they expect you to be able to fly, don't they? Because the travel time is five minutes and it might take you 20 minutes to get there. So just the fact that Co-operative Care Colne Valley is local and we're not looking at anywhere really out of the Colne Valley area, means I'm within 15 minutes from home.