Danielle, our Registered Manager sat down recently with one of our wonderful volunteers, Ashlee, to find out a bit more about her and to get her thoughts on volunteering with us.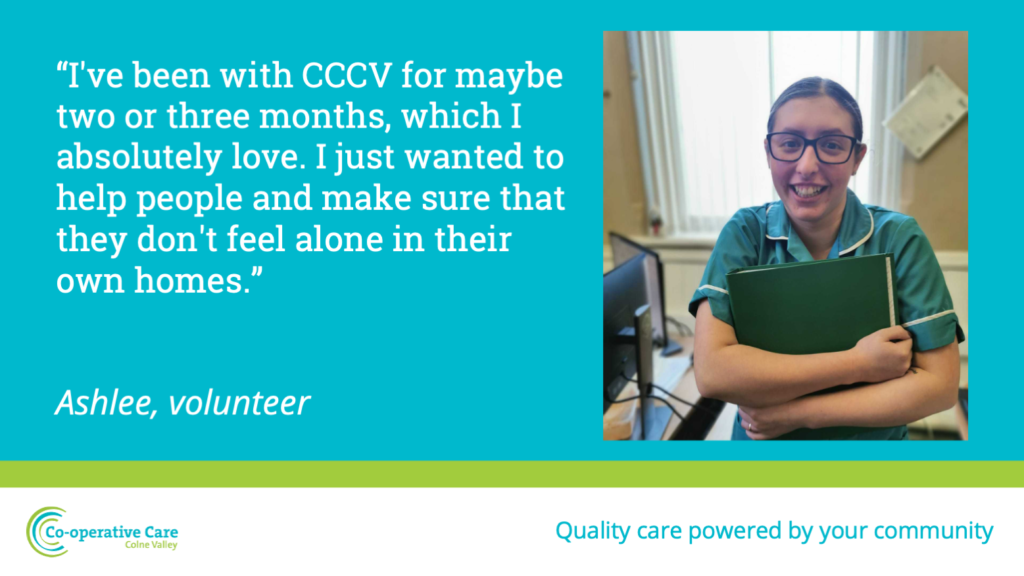 Danielle: Ashlee, I just wanted to ask you a few questions. How long have you been part of Cooperative Care Colne Valley and what attracted you to come and volunteer with us?
Ashlee: I've been with CCCV for maybe two or three months, which I absolutely love. I just wanted to help people and make sure that they don't feel alone in their own homes.
Danielle: What do you enjoy most about your volunteering role?
Ashlee: Seeing the smile on the client's face, it's just so rewarding and it makes me smile.
Danielle: What would you say to somebody thinking about volunteering within the care sector?
Ashlee: Definitely give it a go and see what you think of it, because it will give you a different aspect on life.
Danielle: And can you tell me a little bit about you and what your hobbies are?
Ashlee: I absolutely love singing and music and animals as well.  And I do dog walking.
I like baking and I've got a sweet tooth!
Danielle: What's your favourite thing to bake?
Ashlee: Strawberry Cheesecake.
Danielle: I can't make it. Last time we made it, it just flopped!
Ashlee: Did you put it on a fridge? (top tip from Ashlee there) I'll have to bring some in when I make it next.
Danielle: Is there anything else you'd like to say to people that are reading, and thinking 'maybe I'd like to do volunteering one day' ?
Ashlee: Just go out, try it, see if you like it, and learn new things!
Danielle: Brilliant. And how has cooperative care supported you on your journey?
Ashlee: It's given me such a boost in my confidence to say it was at rock bottom when I started, and it's so only been a couple of months and I'm just beaming as I go along.
Danielle: And now you are doing your care certificate with us! Well, thank you very much for everything, Ashlee.