Please meet one of our User Members. Mr H is in our spotlight for the amazing way he has taken his new lifestyle in his stride. And as someone with early dementia, we wanted to celebrate him in general and his 2-course breakfast, made by the one and only Mr H himself.
Born and raised in Huddersfield, Mr H turned 87 years young this month. He found himself in a position he didn't predict after losing his life-long partner earlier this year and being diagnosed with early dementia.
Mr H moved into a care home on a temporary basis but very quickly it was clear that he was in the wrong place around people who needed a deeper level of support than he did. Mr H's family acted as quickly as they could and he was able to move into a supported living accommodation within 4 months.
Mr H's family then approached our service looking for an organization that has clear values and beliefs about how home care should be provided.
We now work with Mr H 4 times a day, covering all meal times, with companionship and visits for getting out and about on the grounds and also visiting the garden centre. The main priority was to build Mr H's confidence and promote his independence as much as possible, whilst living independently in his new surroundings after becoming institutionalized in the care home.
Due to living with dementia, Mr H initially experienced some hurdles in his new home. These included working out where things were placed, his new tv and remembering his new care team call times. But mostly it was difficult for him to regain the ability to carry out daily activities such as making a coffee. Activities that he wasn't able to be independent with during the previous months. His mood was quite low at times and he struggled with the change of his lifestyle.
The first few weeks we spent with Mr H were about getting to know his care team, spending time in his new building, having a shower whenever he wanted, washing up and cleaning around after his meal times, taking walks with the care staff and guiding him on how to navigate back to his flat from the front door and how to find where the bins are located. This was all about him integrating into his new surroundings to work towards gaining his independence. We started to see a happier, much more confident person who took walks in and around the building by himself, keeping fit and getting out of his flat.
"Everytime I spend time with Mr H I learn something new. He's such a pleasure to spend time with, I jump out of bed knowing he's my first call of the day, especially on a Sunday when we have our breakfast together and watch Match of the Day"

CCCV Care Team member
One day last week, a member of the care team visited Mr H for his breakfast call, to be met at the door with his usual wave and a smile. Mr H asked his support team if they could show him how to use the microwave so he could make his own breakfast. She offered to guide him on the whole process of making his own breakfast, from the coffee, porridge with honey and toast with marmalade. Mr H did it all, mostly independently.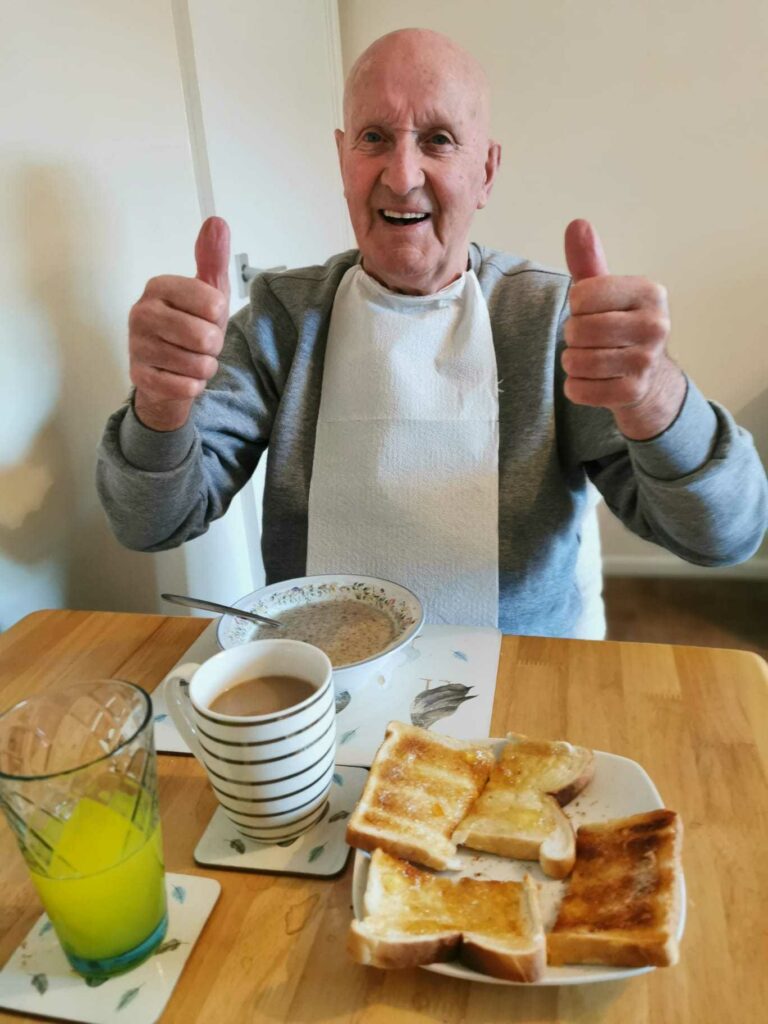 That same day, the care team asked Mr H if he would like to make his tea too. He said he'd give it a try and he did so with great success!
The progression Mr H has made from our first visit to now is a great reflection of his determination to pursue an independent life, with the support and guidance of a care team that's invested in promoting his abilities to live well, with dementia, in his own home.
And thanks to Mr H's family, we were invited to celebrate his 87th birthday with him this week.
Happy Birthday, Mr H!
---
We are registered with DEMENTIA FRIENDS, which offers lots of dementia care resources and information aimed at helping our staff members understand more about dementia and how it may affect a person
If you want to talk to us more about this service please do get in touch.