Yesterday evening we hosted a special Zoom conference call and invited supporters, investors and most importantly potential investors to join in, meet a few of our board members and get their questions answered about our vision and plans for the business, and about our Community Share Offer.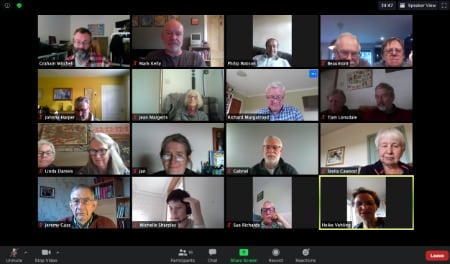 We had a great mix of people joining the call. Most, as we would expect, were Colne Valley residents, but we also had supporters join the call from South Yorkshire and Oxford, which was great. It's good to know that interest in the work we're doing here has spread so far already.
The session opened with an brief talk from our board member Sue Richards, who set out our stall in terms of our holistic approach to what care is about and the work we're doing to develop innovative approaches to make that vision a reality.
We had a series of excellent questions from the people who joined the call and the board members present were kept on their toes providing in-depth responses. It was a really useful session, enabling community members to meet and engage with the team at a time where COVID-19 has effectively shut down many face-to-face opportunities.
If you weren't able to join the call, but have questions about our Business Plan or Community Share Offer that you want answers to please don't hesitate to get in touch. You can send email to share-offer@valleycare.coop and we'll do our best to respond promptly and fully.