This page provides all of the information you'll need in order to make an investment.
Please note that the last day to invest in the share offer is Friday 31st July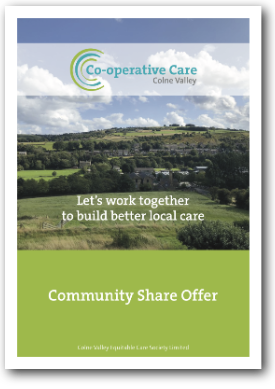 The first thing you should do is read our Share Offer Document. It sets out clearly the terms of the offer, and gives you everything you need to make a decision to invest. Click here or on the image to the right to view or download the share offer document as a PDF.
Having reviewed the share offer document, to apply for shares just click the button below and complete the simple application form. This online form is suitable for use whether you are applying as an individual or as an organisation.
Alternatively you can use the application form that is included at the back the Share Offer Document (note that this is suitable only for an application by an individual).
Additional Information
The Share Offer Document includes references to other important documents that you may wish to review:
The Business Plan itself is based on a comprehensive set of detailed financial projections. Whilst we've not made these available here, they are summarised in the Business Plan, and we are very happy to provide a copy to any potential investor that wishes to review them. Please get in touch if you would like to review the projections.
If you can't easily access any of the documents or forms noted above and would like a printed copy delivered to your door please get in touch via share-offer@valleycare.coop, letting us know what you need and how to get it to you, and we'll do our best to respond.
Community Shares Standard Mark
In order to ensure that this offer conforms to best practice around community investment, we have sought and been awarded the Community Shares Standard Mark.

The Community Shares Standard Mark is awarded by the Community Shares Unit to offers that meet national standards of good practice. These standards ensure that:
The offer document and application form are easy to understand
You are provided with all the facts you need to make an informed decision
The facts are supported by the annual accounts and/or business plan for the society
Nothing in the documents is purposefully incorrect, confusing or misleading
Societies are asked to sign a Code of Practice requiring them, among other things, to give the public a right of complaint to the Community Shares Unit.
For more information about community shares, the Community Shares Standard Mark and the Community Shares Unit go to: www.communityshares.org.uk